The number of marketing technologies has shot up from a mere 150 in 2011 to an astounding 11,000 today. This growth is a testament to how fast technology is advancing and changing the way we do business.
If you're feeling a bit overwhelmed or exhausted by this rapid change, don't worry, you're not alone. We are all trying to find our way through the chaos and complexity to pick the best technologies for our financial brands, banks, credit unions, and fintechs. In this article, we'll share a simple framework that you can use to cut through this chaos and complexity.
The top 3 insights from this article:
The exponential growth of marketing technologies: Despite this growth, it's important to remember that selecting the right technology requires a strategic perspective, given the variety and complexity of options available.
Beware of 'Digitoolitis': Or the 'bright shiny object syndrome', which represents the common pitfall of chasing the latest marketing and sales technology without a true understanding of its role in the bigger, strategic picture.
Implementing the Digital Growth Engine Framework: This strategic framework consists of four distinct gears, each representing a type of technology needed for exponential growth in the age of AI.
The Marketing Technology Explosion: What's Behind It?
The explosion in marketing technologies over the past decade is a clear sign that technology is no longer just a conversation for IT departments. Today, we must view technology as a growth and acquisition opportunity driven by marketing teams, sales teams, and even growth teams.
In fact, it was predicted by Gartner that Chief Marketing Officers (CMOs) would outspend their IT counterparts, the CIOs, on technology. This shift is already creating some internal friction within organizations. However, with over 11,000 marketing technologies to choose from, it's easy to get confused and overwhelmed. This is why it's important to think about technology from the proper perspective.
Digitoolitis: The Addiction to New Technologies
Everyone wants the coolest technology, the latest thing. James Robert calls this "digitoolitis" or the "bright shiny object syndrome". This is an addiction to shiny marketing and sales technology without a true understanding of how they fit into the bigger, strategic picture.
What many financial brands are missing is that no single tool or technology is going to save them. The most important technology we must master in the age of AI is the technology that sits between our ears. Tools and technologies are useless without a strategic framework and critical thinking about how they fit into the bigger strategic growth picture.
Building a Digital Growth Engine
The solution is a simple yet transformative strategic framework that we call the "Digital Growth Engine". This engine has four distinct gears representing four different types of technologies needed for exponential growth in the age of AI. These technologies are aligned with the consumer buying journey. Let's walk through each one.
Gear #1: Targeted Emails and Ads. The first gear in the Digital growth engine is targeted emails and ads, aimed at increasing website traffic.
Gear #2: Website That Sells. The second gear is our website that sells, designed to generate leads from the traffic driven to the site by the first gear.
Gear #3: Marketing Automation Platform. The third gear is a marketing automation platform that captures and nurtures leads driven to the website.
Gear #4: Sales and Service Enablement. The fourth and final gear is sales and service enablement, converting leads into loans and deposits, and deepening share of wallet.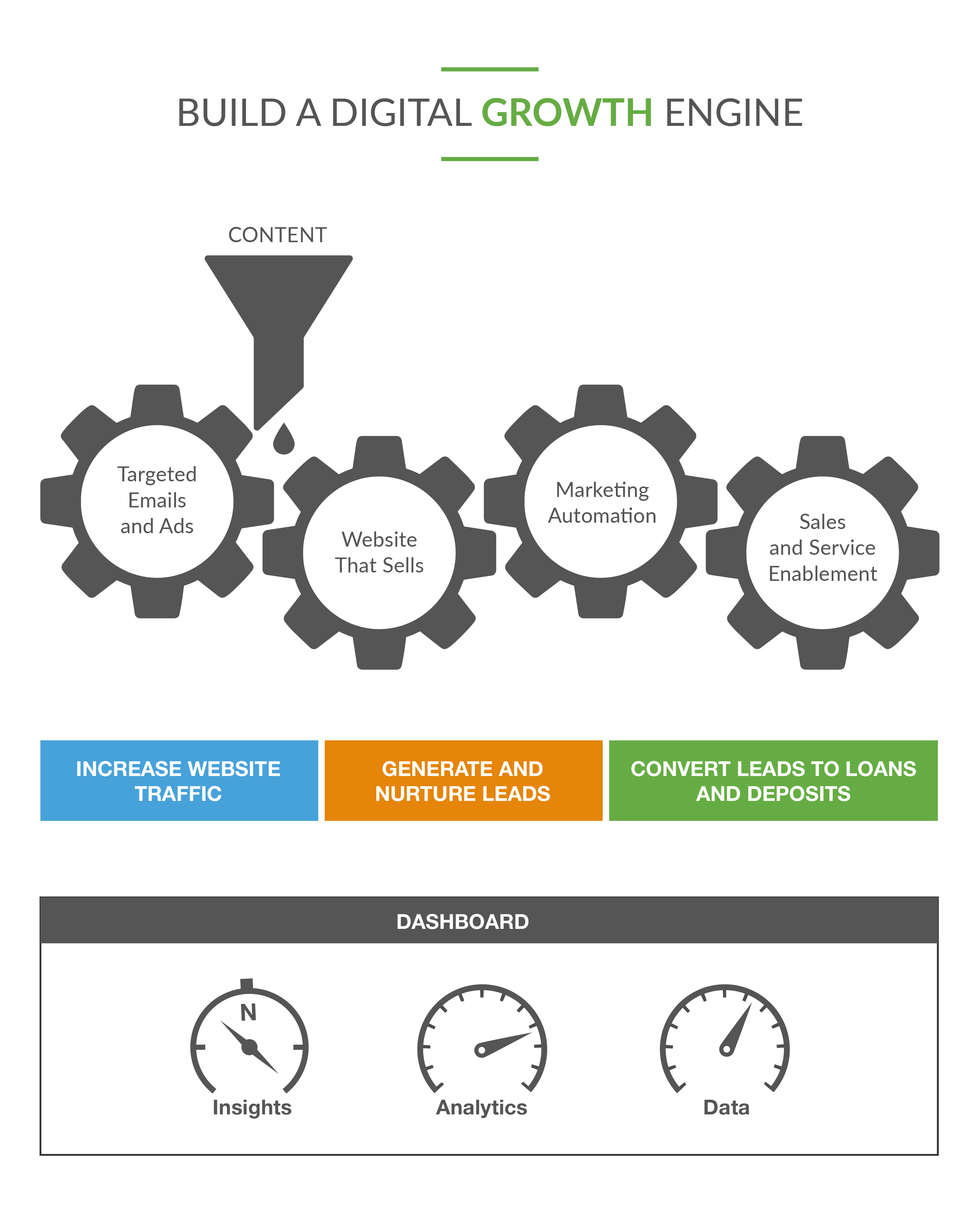 In the ever-evolving world of finance, the Digital Growth Engine remains a vital tool for customer engagement. Content, the fuel for this mechanism, drives interaction, shepherds customers through the buying journey, and cultivates trust.
Data and analytics provide essential navigation tools for the Digital Growth Engine. They are the indicators on our dashboard, showing the progress we've made and the course adjustments we need to implement. It's essential to remember that every data point represents a human being with unique financial concerns and dreams, reinforcing the need for trust throughout their journey.
The Digital Growth Engine isn't about one particular technology; instead, it's about applying and fine-tuning a strategic framework that aligns with a financial brand's unique circumstances and capabilities. From choosing the right marketing automation platform to building your team's capabilities, this strategic framework offers guidance at every step.
The Ongoing Journey of the Digital Growth Engine
Pausing, reflecting, and assessing each gear in the context of your financial brand's unique digital growth engine can yield valuable insights and clarity, helping to chart the path forward. These tools are pivotal in guiding our customers beyond financial stress towards a brighter future in the age of AI.
The Digital Growth Engine is not a static destination but a dynamic journey. It's an evolving process that adjusts and grows according to the needs and capabilities of a financial brand. In the digital age, it's crucial for financial brands to comprehend their digital growth engine, assess its performance, and modify as needed to maximize potential.
Take Action Today:
Develop a strategic framework for technology selection: Don't get swept away by the latest marketing technology. Instead, develop a strategic perspective for selecting technologies that will best serve your business objectives. Understand the role of each technology in the broader strategic picture of your financial brand.
Implement the Four-Gear Digital Growth Engine Framework: The framework consists of targeted emails and ads, a website designed to generate leads, a marketing automation platform, and a sales and service enablement system. Evaluate your existing technologies and tools and align them with this framework. This will ensure they are effectively driving growth and acquisition for your financial brand.
Pause, reflect, and assess: Constantly assess the performance of your digital growth engine in the context of your financial brand. This ongoing evaluation will help you understand if the technologies you have in place are working effectively in driving customer engagement and growth. If necessary, make modifications or course corrections to ensure you're making the most of the digital landscape.
In essence, avoid falling into the trap of "digitoolitis", comprehend the vital role of strategic thinking, and implement a framework that serves as a guide through the complex world of marketing technologies. Stay informed and adaptable to maximize your brand's potential in this ever-evolving digital landscape.
For more about financial transformation, reach out to James Robert Lay at the Digital Growth Institute.
This article was originally published on July 27, 2023. All content © 2023 by Digital Growth Institute and may not be reproduced by any means without permission.